18
Lanmodo Portable Automatic Car Tent
Lanmodo sees your car cover, and raises it...a giant remote controlled automatic vehicular umbrella! The Wolverine of vehicular umbrellas, if Lanmodo's claims are true.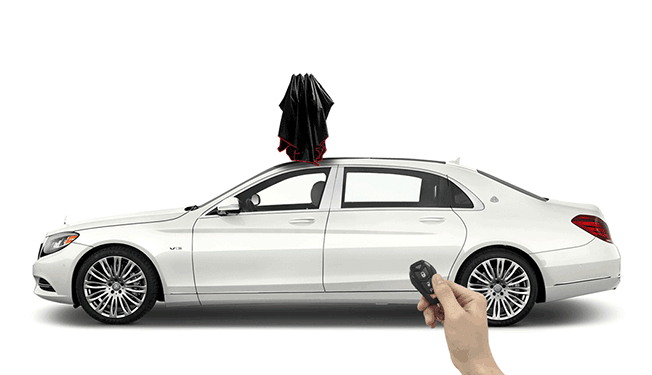 The Lanmodo car tent was designed to protect yours from anything the sky throws at it. Made of fiberglass and ready to spread its shielding wings in 8 seconds, Lanmodo is strong enough to ward off heavy rain, snow, wind, hail, and random falling objects, such as rocks and bird shit. Landmodo makers have actually thrown stones and bricks "from high places" to test out the tent's strength, and video evidence suggests it passed.
In the winter, Lanmodo can continue to function and keep snow and ice off your car in temperatures as low as -20 degrees F, and in the summer its whole-car-coverage could cool down interior temperatures up to 35 degrees.
The car tent's anti-theft system is twofold: 1) it can be operated only by remote control, so no one can manually fold it down to steal when open; 2) Lanmodo installs with an anti-theft rope embedded with steel wires that are difficult to cut.
Lanmodo car tents come in two sizes, and with or without a stand, the latter for use if you want to take your Lanmodo to the beach to serve as a portable automatic body tent.
DudeIWantThat.com is reader-supported. When you buy through links on our site, we may earn an affiliate commission. As an Amazon Associate we earn from qualifying purchases. Learn more.
More Products You Might Like